History of Kathy X
2014:
Kathy X ceases operation
in order to concentrate on new projects!
Autumn 2013
Release of CD Album "All The Way"

Summer 2011

Release of double A 7" vinyl Fluch der Pharaonen/No Tomorrow
Summer 2010

Release of Life Number Nine, New 6-Tracks out on CD & Download
Spring 2010
Once again:
READY FOR ANYTHING!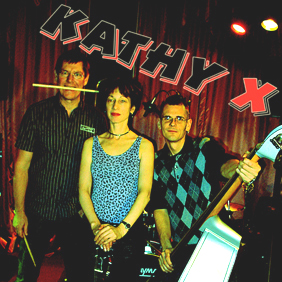 Winter 2009 Recording sessions for new songs going on again...
Summer 2009 We're back on stage with Dr.Duck on drums!
Spring 2009 Latest recording "X-Appeal" released with CDBaby.
Winter 2008 Finished the latest recordings with Tom Petersen of PVC on drums. Songs will be available online soon. Rehearsing with new drummer Dr.Duck to be back on stage early 2009!
Spring 2008 Drummer Tom Petersen of PVC is helping out at the moment while the search for a new regular band member on drums is going on.
Oktober 2007 Kathy X part company with drummer Blocky.

April 2007 Kathy X recruits Tom "Blocky" Block as new drummer. Blocky may be known to some of you as one of the original members of Berlin´s legendary 80´s Rockabilly band "The Quiff Cuts"
March 2007 Dave takes jobs playing in bands on cruiseliners.
December 2006 Dave goes back home to the US. Kathy X looking for substitute drummer!
November 2006 We play with Dick Dale at the SO36 in Berlin.
September 2006 Party Pooper, 4 Track Release is available online exclusively.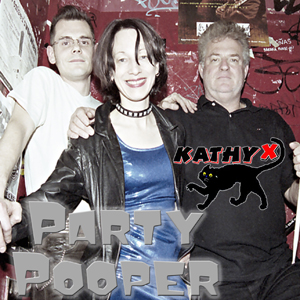 April 2006 We headline the Friday night show at the White Trash Fast Food, Berlin
January 2006 We play in Warsaw again, it´s -25° C, brrr...
December 2005 Kathy X opens for The Long Tall Texans at WAH in Berlin
May 2005 We played our first show in the U.K. at the Klub up at the Garage in London with NekroPete1 and the Hangmen!
March 2005 Our E.P. "Help Me God, I Let The Devil In" is available worldwide at Apple iTunes Music store!!
November/December 2004 Several songs of Kathy X receive airplay on Berlin UniRadio as well as on Radio Sinaai Belgium. We play our first show headlining at Wild at Heart, Berlin.
October 2004 Our album "Ready For Anything" is now available on CDBaby, too. The limited 7" vinyl edition of "I let the devil in" was released on Urban Zombie Records! Record release party on October 23. at JUZE Backnang opening with the Tony Montanas. We also opened for the Ricochets for their Berlin show at Ex´n`Pop Club.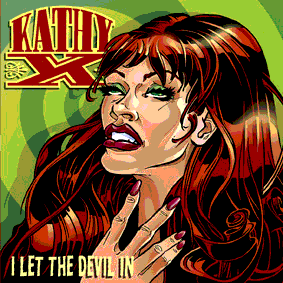 August/September 2004 We played a few more gigs: Berlin, Wild at Heart, opening for the HorrorPops (once again), Hamburg, Headbangers Ballroom, with the Ed Random Band and at the Kassablanka in Jena together with Pfeffer and the Paul Roman 3. Our Album is now available at Crazy Love Records, too. Preparations for the special 7" release of "I let the devil in" are going on.
May/June 2004 "Ready For Anything", our debut album was released May 20th by Cosmic Records in Poland.We played in Warsaw together with the Meteors, Monster Klub & Robotix.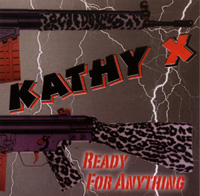 Also, the Graveyard Hop No.1 Compilation is out for sale.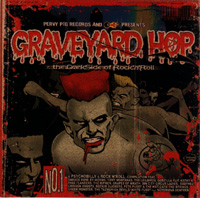 February/March 2004 We just returned back to Berlin from recording our first album at Studio X in Olsztyn, Poland. We are signed to Cosmic Records. Release is scheduled for beginning of May. Watch out for new information!!! We will also appear on the Graveyard Hop No.1 Compilation by Pervy Pig records soon. Check that out, too.
December 2003 again we played at the annual Tattoo Convention in Berlin on the 5th of that month. Cheers to all of you pierced & inked creatures out there!
Looks as if we´re gonna release our first album soon!
For the moment stay patient and check out our latest appearance on Wolverine Records Compilation "It´s Not Just Boys´ Fun" WRR108D-CD,now available on www.wolverine-records.de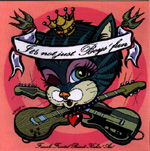 November 22. we played our first gig abroad in Polands capital Warsaw and it was a great show. Here´s to say "thank you" to all our Polish fans for being a fantastic audience!
And it goes on:
In 2003 we played more local gigs at Berlin Clubs "Wild at Heart" and "Mad&Crazy". We also played at Tattoo Festivals in Leipzig and Potsdam. Recording continued, too. We were looking for a record label to release our recordings.
August 2002 a quick trip back to the UK, where Mark Pennington (The Caravans) produced her first solo recording.
Later that month, back in Berlin at notorious Franken Bar in Kreuzberg she eventually met slap-bass-player Rob of the Rawheads (also former bassist with Mad Sin).
They then recruited the recently found Mr Shadow aka Dave Crome from Philadelphia on sticks. He already worked with Bo Diddley, Del Shannon, Danny & the Juniors, The Shirelles, Dick Clark and the legendary D.J. Wolfman Jack, just to name a few.
Following successful Berlin gigs, the band did some recording at their private studio - featuring the acclaimed original "I let the Devil in" - for sale by request.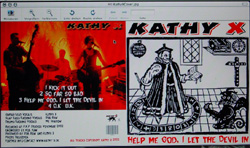 The music has been described as " a powerful combination of cool, rockin´ rythms, dark agressive lyrics and incredibly catchy choruses - not to be missed"
In Germany she continued to play now and again with UK party-band Death Valley Surfers and searched for far and wide for the right guys to play in her own project.
Brixton, 2000: Bored and constrained by the sterile, DJ dominated music scene in her native London Kathy moved to Berlin with a few Link Wray CD´s, a beat-up SG and a dream of creating a 100% live, rockin´, power trio.